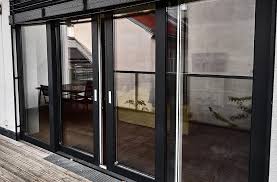 Are the patio doors of your house according to your need? When you bought the house, you may have not thought a lot about the style and type of doors the house had, but after shifting you might consider these things and realize it is time to get your patio doors replaced. The article focuses majorly on sliding doors on the patio and how you can pick the best one for your house. Right from vinyl, fibreglass to aluminium, there are different options. Every material offers a great entrance to your patio and helps you accomplish your objective for outdoor living.
Considerations for new sliding glass door:
If you are thinking of which sliding door is best for your patio, then here are some questions you should ask yourself first:
Do you wish to retain the original size of your patio door or want to expand the opening for better light and air flow?

How important is maintenance and durability for you?

Do you want an energy efficient door?

Is colour important for you?
Once you answer all these questions, you can narrow down your choice.
Vinyl sliding doors are an amazing option for replacement or new construction. The sliding doors work amazingly great in tight spaces or situations where furniture is sited close to the door while swing doors will need more area for the door to open inside or outside. Vinyl looks amazing on a wide range of architectural home styles and can be acquired in different frame colours. Vinyl is also amazingly energy efficient, long lasting and needs little upkeep.
Fiberglass sliding doors are strong and need limited maintenance. They are long lasting and energy efficient and bring a tinge of elegance to the area. You can get French style sliding fiberglass doors in different frame shades to match the look of your house.   
Aluminium sliding doors can add a contemporary touch and feel to your house. If you are renovating, go for adding sidelites or transoms for better light and higher ventilation. It will make a wall of windows around your patio. The aluminium sliding doors have clean lines and narrow frames which enhance your view. Plus these doors are extremely strong and stable and prove to be a great option for replacement or new construction jobs.
Glass doors are really stunning and have been quite popular because of their ability to help you expand your living area. You can get them in different operation styles such as stacking, pocket and bi-fold. Each one of them has its own set of advantages according to how you plan to use the area. 
For instance the pocket door panels disappear from the sight when the door is completely open because they get tucked in the wall. Bi-Fold doors are bottom which are recommended for remodelling projects.
If you are looking forward to know more about sliding doors then speak to professionals at Window Mart.